Blog
7 Steps for Planning Your Deck Design
2020-03-02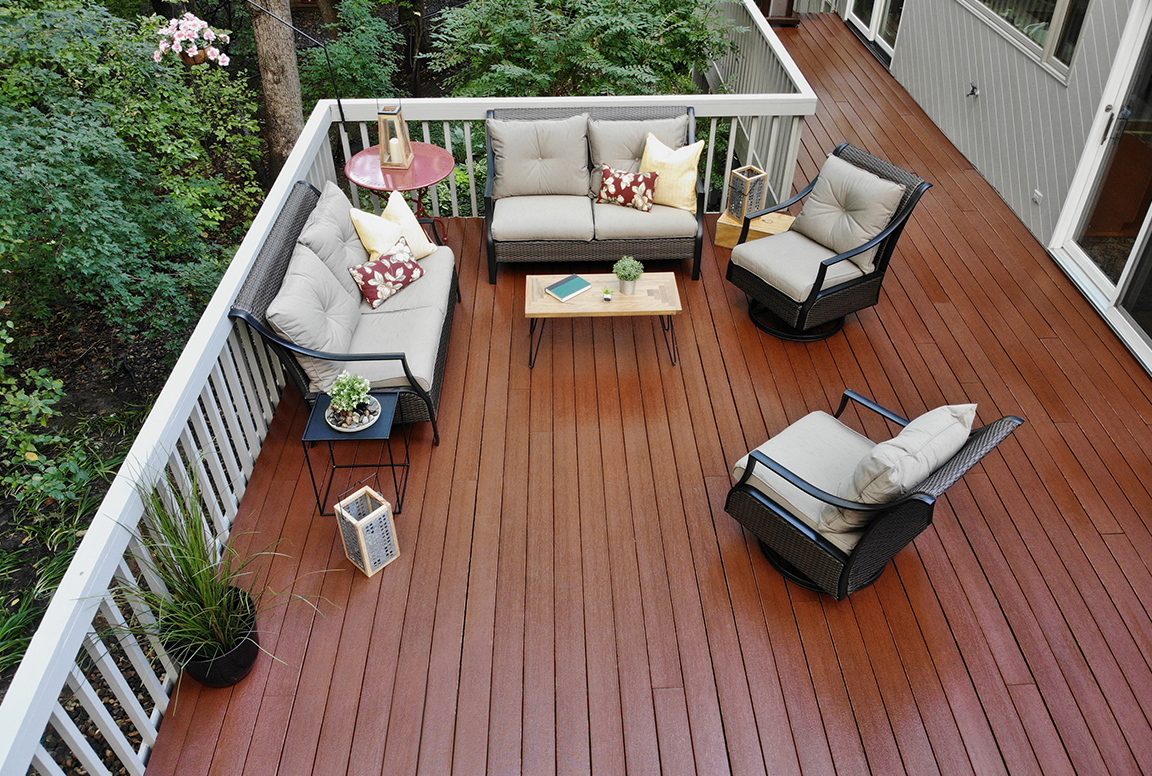 Adding a new deck to your home can both add value to your house and change how you use the outdoor space. A little planning before starting to build a new outdoor oasis can help you get the most out of the deck you build. But before you can start diving into conversations about budget and patio furniture, you'll need to determine what you want and what suites your lifestyle. Creating a wish list for your future outdoor space, including what it looks like and how you want to use the space, can help shape and influence the design and ensure the deck you design truly checks all your boxes. Making a list helps you prioritize what you really want, and knowing what is a 'must-have' vs. just a nice idea can help you stay on budget and keep you enjoying your new deck for years to come. Whatever the reason is for wanting a deck, it's clear you are ready to use the space you have to it's full potential. We've created this UltraDeck
®
Deck Planning Guide with seven simple steps to get you thinking about all the details now, so can truly relax and enjoy once your deck is complete.
1. IDENTIFY KEY USES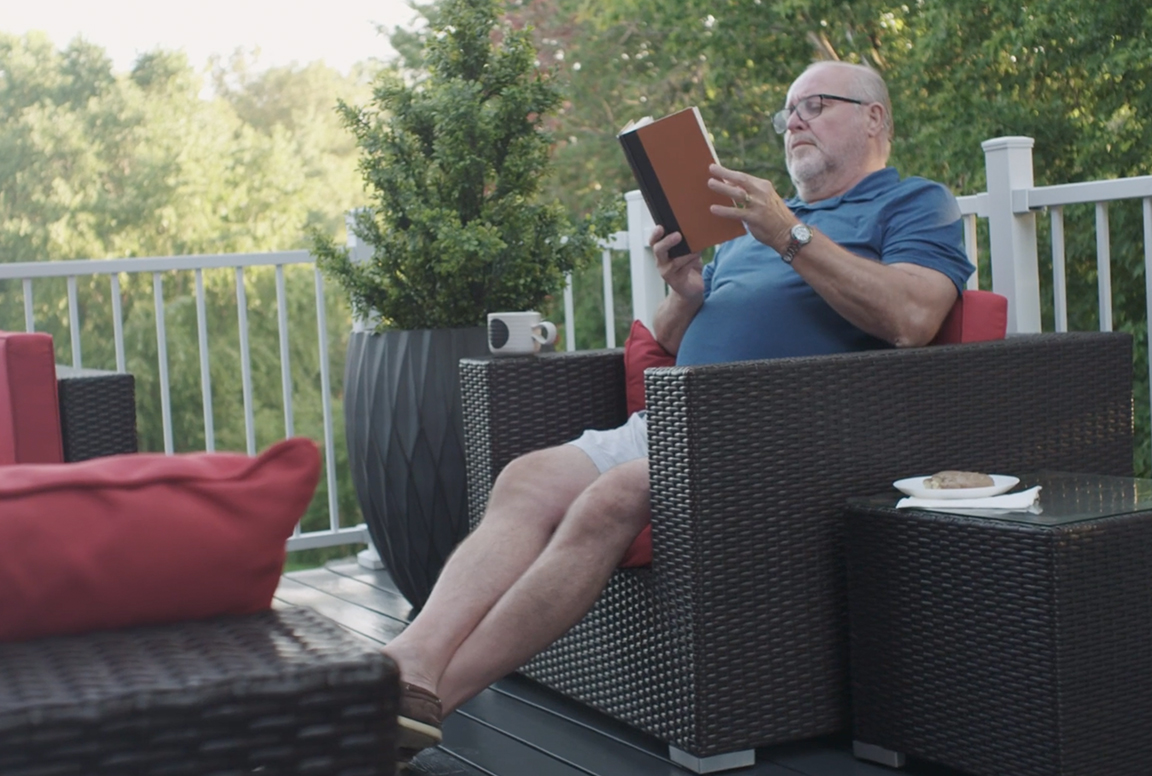 Of course, enjoying the outdoor space is the reason you've been dreaming about adding a deck to your house, but thinking about how you plan to use it and what you really want to get out of the space can greatly impact every decision from where you place the deck, down to the materials you choose. Start by picturing your ideal day on a deck: at UltraDeck, we refer to this as how you plan to LIVE THE DECK LIFE
TM
. Are you relaxing in the sun? Grilling with family and friends? Lounging around the pool? Hosting a party? Knowing your end goal will help you plan for what you need.
Planning to relax each morning while drinking your coffee? You might be looking for a more intimate space where you can enjoy the view and watch the sunrise.
Want to make the most of nice weather by grilling and eating outside? An alcove for the grill and space off the main traffic pattern for a dining table an be great design elements to consider.
Aim to become the gathering space for neighborhood parties? Plan for multiple zones with different types of seating and easy and open access to the backyard for yard games, water balloon fights and conversations around the fire.
Wanting a backyard retreat away from the house? A floating or platform deck with a tranquil walkway can be a simple project to transform the feel of your backyard.
2. SET THE LOCATION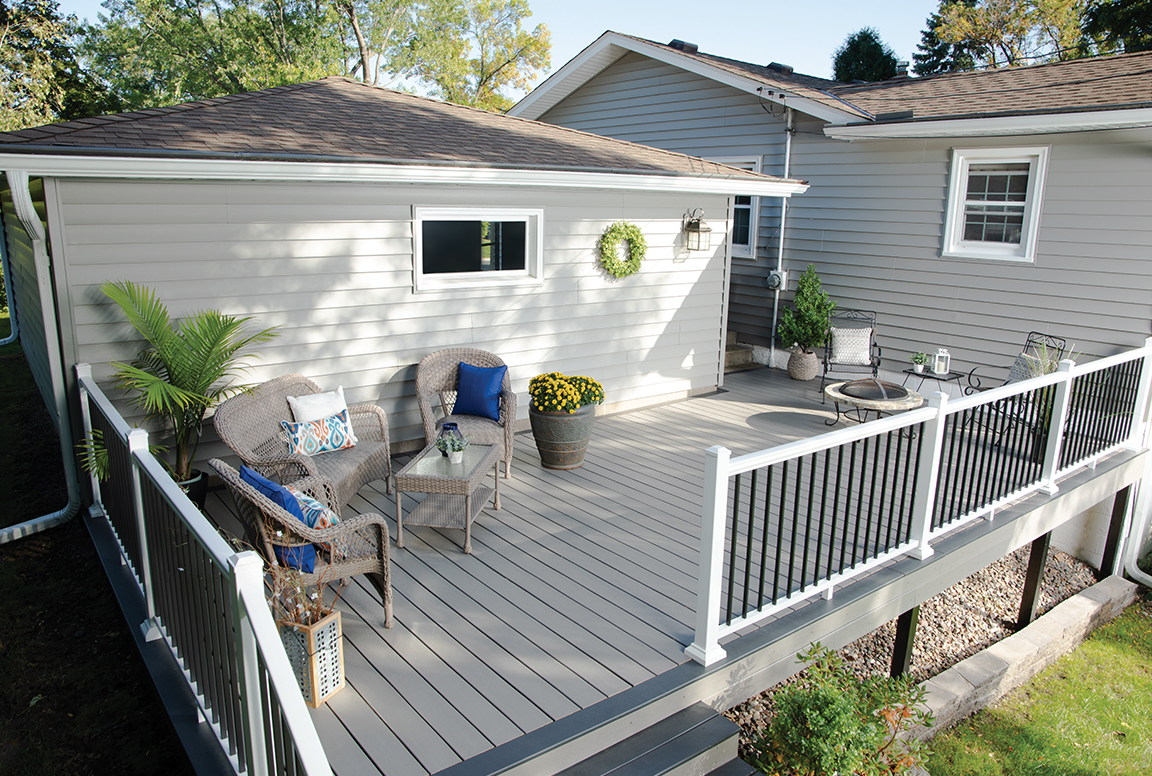 Knowing how you want to use your new deck goes hand-in-hand with where it will be. After all, you probably don't want your party guests walking through the Master Bedroom or to carry a full tray of food through the entire house just to grill. If you plan to cook and dine outside, having easy access from the kitchen is a must. When the goal is to relax outside with a good book, having areas of the deck in the sun or shade can make it easier to enjoy even on the hottest days. But considering sun exposure and ease of access aren't the only things to consider when choosing your locations. You may need to consider other restrictions as well, such as property setbacks, Homeowner association rules, or local building code regulations. You will want to check in to any restrictions with your city, county or state before going too far in the designing and purchasing process.
3. SIZE & SHAPE MATTER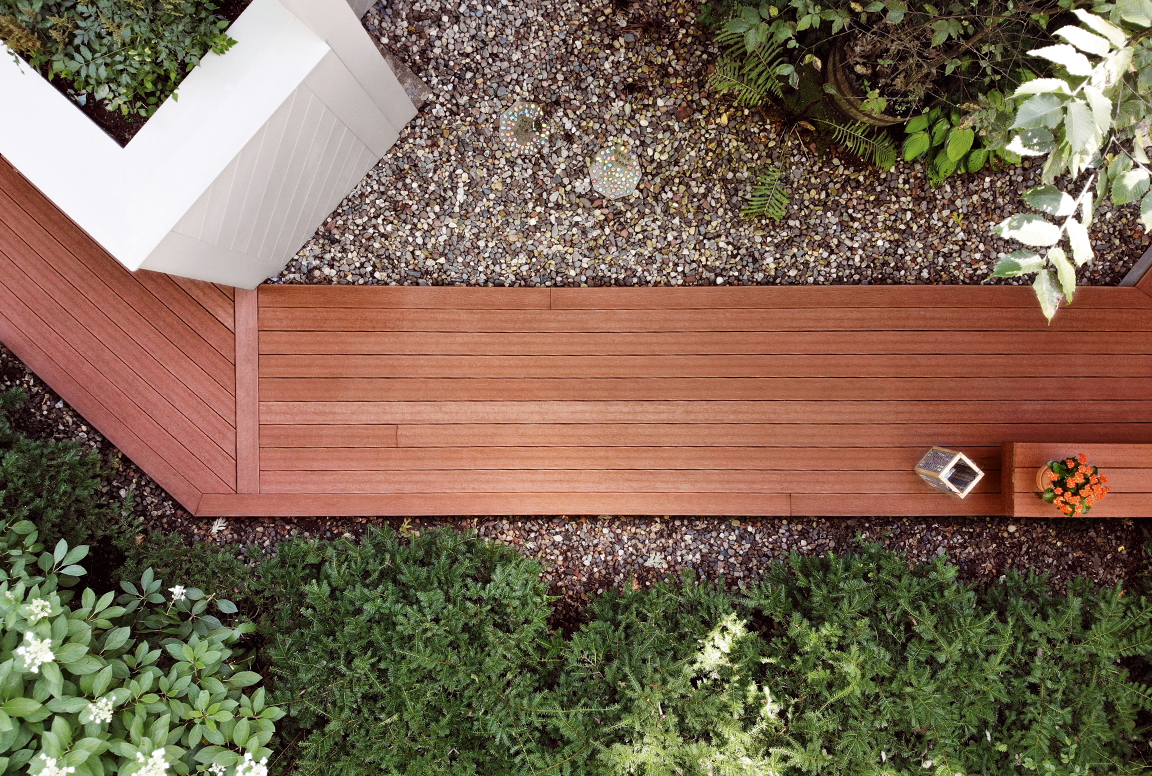 Choosing the size and shape of deck to build is sometimes determined by elements around the property; the walls of the house, property setbacks and fencing, or the location of the perfect shade tree. Yet, other times, the budget for the project may be the largest factor when planning the size and shape. No matter what size deck you choose to build, it is good to be conscious of how your intended use of the deck aligns with the overall shape and size of the deck project.
Inviting Staircase: If your goal is to have a welcoming front porch, an extra-wide staircase leading to the front door can help make the deck feel inviting, while enhancing curb appeal.
Limited on Space: When property setbacks or space limitations require you to build a bit smaller than you originally hoped, being aware of how the placement of stairs can affect the useable space and selecting smaller profile furniture and decor can help the whole deck look larger.
Deck with a View: When you really want to focus on enjoying the view, you may want to consider the perfect seating area and the overall depth of the deck in order to maximize the view. If you build the deck too deep, you may cut off some of the view from inside the house; too narrow and your space for seating will be limited.
4. KEEP TRAFFIC FLOW IN MIND
When considering the design of your deck, you'll want to think about how people will move through the space, how preferred seating choices effect the flow, and how access points and stairs to the deck can impact traffic and seating.

Single Entry:
With only one access point, traffic flow probably won't be a major concern, as you won't have to worry about paths to other entrances or staircases. This can open up the possibilities for furniture layout and really focus on the view or intent for the deck. A single access point can also make the deck feel more private, like a balcony off of a master bedroom, as there aren't people coming and going from multiple directions or concerns about integrating other spaces with the deck.
Multiple Access:
Having multiple access points is the most common. Whether it's a front porch connecting a sidewalk and the entry door, a backyard deck with a dining table leading from the kitchen to the backyard, or a multi-level deck with different area for entertaining, having multiple ways to enter the deck means you'll need to think about how the position of those entry points effect the overall space and feel of the deck.
A staircase to the yard centered opposite of a door may mean two smaller seating areas rather than a larger table and chairs centered on the deck to create the best traffic flow.
A deck used as a main walkway from the house to a driveway, may need to be wider if you want to also include a place to sit or gather.
Multiple staircases may be great to add drama or easily access to different areas, while one wide staircase may integrate a low standing deck with the patio more smoothly.
Free Standing:
When a deck is freestanding or floating it is often used as a destination rather than a passage from one point to another, making traffic flow through the space much less of a concern. With easy access from all, or most sides, and a low-to-the-ground structure, free standing decks are typically an easy build that can quickly transform any outdoor space.
Enhance with Unique Details
A deck can be customized in so many ways to reflect your style and work best for your house. Whether you decided to go big or small, unique features can enhance the look of your space, as well as how you will use it when it is complete. When getting down to the details in the planning stage, consider everything from privacy needs to beautiful patterns and designs in the deck boards. Adding a fence to shield from the neighbor's view can enhance privacy, having a unique alcove for seating or a grill can add appeal, and adding a bold pattern or boarder to the deck boards can highlight the whole space or emphasize a smaller seating area.
5. CHOOSE MATERIALS CAREFULLY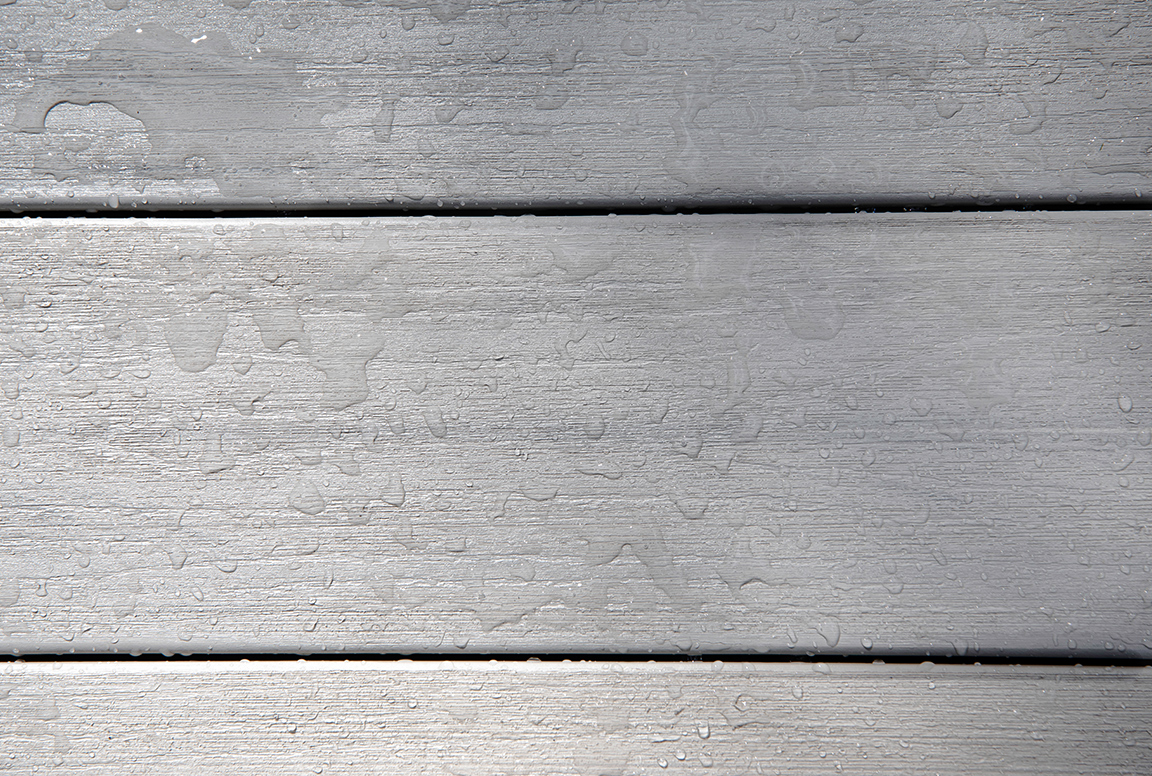 Check out more about the wide variety of products, colors, and low-maintenance options UltraDeck
®
offers for any budget and lifestyle with our
Product Comparison Guide
.
The right materials can make the deck! Budget can certainly be a big factor, but it isn't the only thing to consider when selecting materials. Color, function, and style are certainly important as well, but remember to think long term.
Consider Maintenance and Time:
Ease of maintenance can greatly impact the way your deck looks and performs for years to come, as well as the amount of time you need to spend keeping it looking its best. Keep in mind the reason you want a deck to begin with, if your whole goal is to spend time relaxing and enjoying the outdoors, then choosing a product that needs to be stained or sealed every year or two may not be your best option. Composite decking may cost a bit more upfront, but the time money, and energy saved with its minimal maintenance can really pay off in the long run.
6. ADDING RAILING AND LIGHTING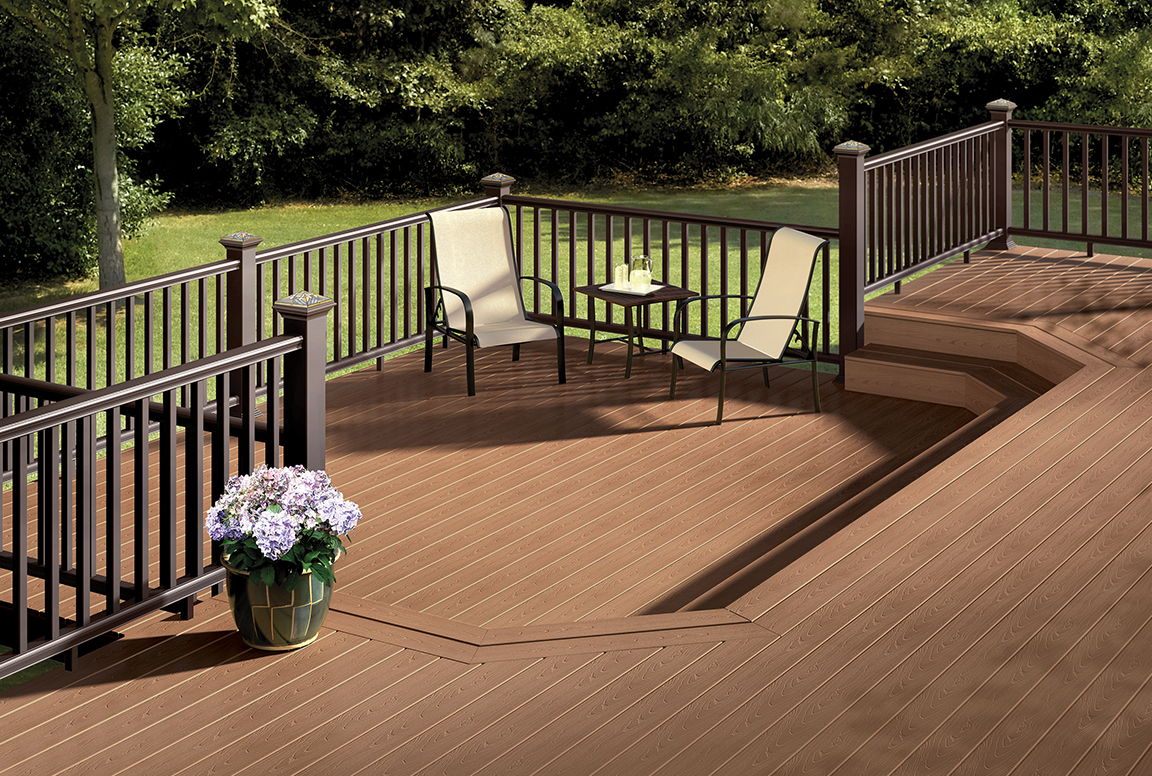 Railing and lighting can really make a deck feel complete. With multiple color, profile, and material options, it can be overwhelming to choose. Keeping your intent for the deck in mind can really help narrow down the right option for your home. To optimize a view, a horizontal, low profile, or clear railing option may be a good choice as it won't detract from the view. Add additional style and flair with a contrasting color of railing to complement the features of the deck. If you are planning for multiple late-night parties outside, built in lighting can be a beautiful and practical addition.
7. GET TECHNICAL
Now that you know what you want in a deck, it's time to get technical. It's time to select your materials and really narrow in on your budget. Before you can start to build your new deck, you've got to design it up, gather needed materials, get any needed permits, and maybe refresh your skills a bit. But have no fear UltraDeck
®
, along with Menards
®
provides you with all the tools, tips and, techniques you need to get your new deck project started off on the right foot. Start by using our free
Deck Designer
, which you can use to design and buy materials from home; use our
fastener calculator
, to figure out how many hidden fasteners you need; or chat online with an expert. When you are ready to start building, watch our
how-to-videos
or check out the detailed
installation instructions
.
Ultimately, know yourself and the project you are wanting to tackle. At UltraDeck, we truly believe that a deck project is something you can take on. But if you are feeling unsure, don't let that hold you back from the getting your dream outdoor space. You can still design, select, and price all of your materials online and get in contact with a local contractor to help you tackle the project. Before you know it, you'll be relaxing outside and enjoying your new deck.
Leave a message