Blog
Selecting Decking Material
2020-05-14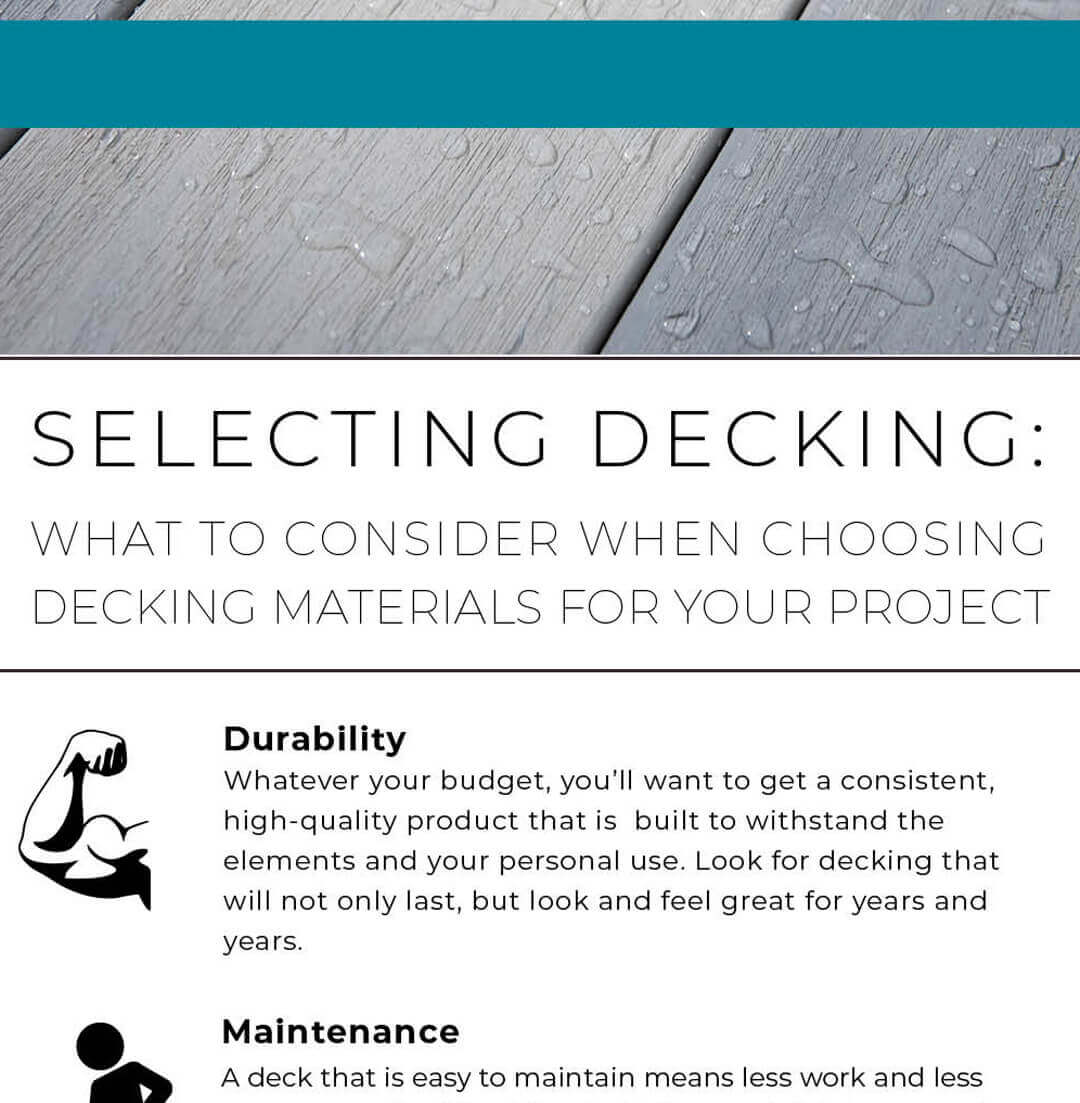 Arguably the most important decision to make when adding a deck to your home is what material and type of decking board to use. Weighing cost, style, quality, environmental impact and future maintenance are all major factors that must be considered when making your decision. Though that may sound like a lot, taking a little time to think through those factors upfront, before selecting a decking material, can greatly impact how much you use and enjoy your deck for years to come. Upfront cost is typically one of the biggest factors that homeowners think about, but there is a lot more to consider beyond the initial investment. Keep these criteria in mind before you select to make the most of your new addition. Then you can truly relax and enjoy your deck once it is complete.
DURABILITY
Using quality decking materials means more quality time spent on your deck. Whether that is from installing consistent, high-quality product, or from using boards that are built to withstand the elements and your personal use, you'll want decking materials that will not only last, but look great for years and years. Knowing how you will use the deck most can help you decide as well. Choosing high-traffic, family-friendly (and pet-friendly too) materials like composite decking, that resist scratching and staining, can make for deck that looks and feels like new, longer.
MAINTENANCE
A deck that is easy to maintain not only means less work every year, but can really help you relax and enjoy your outdoor space more. If you don't mind spending a weekend or more each year keeping up on annual staining or painting needed for traditional decking materials, than you really have a wide range of options to choose from. Just remember to consider the cost of that maintenance long term. Depending on the size of the deck and if you want to do the work yourself, it can be more cost effective, in the long run, to choose a low-maintenance decking option instead. Composite decking options may cost more upfront, but can be well worth the time and money you'll save to refinish or seal the surface over the life of the deck.
SUSTAINABILITY
Enjoying the outdoors is a major part of enjoying time on a deck. Whatever materials you choose for constructing your deck make sure you are purchasing from a trusted and responsible source. Composite decking made from 100% recycled wood can have long lasting impact and save thousands of trees from being cut down. Purchasing from manufactures who are local and not only make, but source materials in the US means less impacts from transportation. And low-maintenance options mean easy clean-up without the use of harsh chemicals. A deck is a place to enjoy the outdoors: be a part of protecting the environment for everyone to enjoy!
EASE OF INSTALL
From purchasing and picking up materials, to handling, cutting, and installing them; the whole process should be easy. Whether building new or resurfacing an existing deck, this truly is a project you can do yourself! By selecting a material that requires no specialized tools or experience, and is available to anyone, not just contractors, you can choose to hire the project out, work with family or friends, or tackle it yourself.
ULTRADECK
®
COMPOSITE DECKING FOR YOUR NEW DECK:
Selecting UltraDeck
®
Composite Decking may be the right choice for your new deck. We believe that your new deck is a place to enjoy and not something that should be complicated to plan, build, or maintain. With
composite decking options
for a wide range of budgets and styles, we know you'll find the right look for your home. Use our free
Deck Designer
to design, estimate, and buy the materials needed with ease. When you are ready to build, whether it's your first DIY project or you are hiring it out, we have
resources
for that too. Don't even worry about complicated maintenance; because we the did research and design work upfront so your new deck will stay looking great, with minimal effort, for many years to come. Check out everything we have to offer and see for yourself.
View Infographic
.